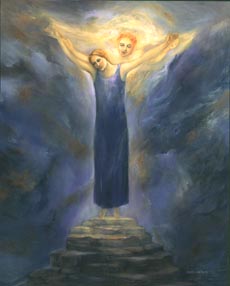 The Egoic Self
~ A segment from Chapter 3 "Stillness Speaks", Eckhart Tolle ~
The mind is incessantly looking not only for food for thought; it is looking for food for its identity, its sense of self. This is how the ego comes into existence and continuously re-creates itself.
When you think or speak about yourself, when you say, "I", what you usually refer to is "me and my story." This is the "I" of your likes and dislikes, fears and desires, the "I" that is never satisfied for long. It is a mind-made sense of who you are, conditioned by the past and seeking to find its fulfilment in the future.
Can you see that this "I" is fleeting, a temporary formation, like a wave pattern on the surface of the water?
Who is it that sees this? Who is it that is aware of the fleetingness of your physical and psychological form? I Am. This is the deeper "I" tat has nothing to do with past and future.
What will be left of all the fearing and wanting associated with your problematic life situation that every day takes up most of your attention? A dash - one or two inches long, between the date of birth and date of death on your gravestone.
To the egoic self, this is a depressing thought. To you, it is liberating.
When each thought absorbs your attention completely, it means you identify with the voice in your head. Thought then becomes invested with a sense of self. This is the ego, mind-made "me." That mentally constructed self feels incomplete and precarious. That's why fearing, and wanting are its predominant emotions and motivating forces.
When you recognise that there is a voice in your head that pretends to be you and never stops speaking, you are awakening out of your unconscious identification with the stream of thinking. When you notice that voice, you realise that who you are is not the voice – the thinker – but the one who is aware of it.
Knowing yourself as the awareness behind the voice is freedom.
The egoic self is always engaged in seeking. It is seeking more of this or that to add to itself, to make itself feel more complete. This explains the ego's compulsive preoccupation with future.
Whenever you become aware of yourself "living for the next moment," you have already stepped out of that egoic mind pattern, and the possibility of choosing to give your full attention to this moment arises simultaneously.
When you live through the ego, you always reduce the present moment to a means to an end. You live for the future, and when you achieve your goals, they don't satisfy you, at least not for long.
When you give more attention to the doing than to the future result that you want to achieve through it, you break the old egoic conditioning. Your doing then becomes not only a great deal more effective, but infinitely more fulfilling and joyful.
Almost every ego contains at least an element of what we might call "victim identity." Some people have such a strong victim image of themselves that it becomes the central core of their ego. Resentment and grievances form an essential part of their sense of self.
Even if your grievances are completely "justified," you have constructed an identity for yourself that is much like a prison whose bars are made of thought forms. See what you are doing to yourself, or rather what your mind is doing to you. Feel the emotional attachment you have to your victim story and become aware of the compulsion to think or talk about it. Be there as the witnessing presences of your inner state. You don't have to do anything. With awareness comes transformation and freedom.
Please click here
The Egoic Self ~ Eckhart Tolle
to (Post a comment) ... Do not use link below
_________________
My Eternal Love, Sarveswara
Love, Faith & Trust ... The Foundation of Everything.

---
Permissions in this forum:
You
cannot
reply to topics in this forum