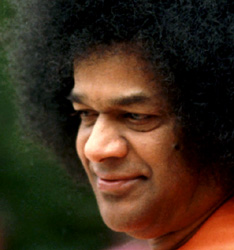 What are the three ways to sanctify our lives?
What you need for spiritual progress are three things. A heart free from attachment and hatred, a tongue that is not tainted by untruth, a body not polluted by violence - the one who has these three is of sacred birth. Without these three, all penances and religious practices are of no use. You have to pray incessantly for Divine Grace to confer these qualities. Realize that the Divine is within you. Life is given to you to realize lasting bliss by the right use of the body, the mind, the intellect and the inner motivator (God). You have to acquire the wisdom to lead such a life based in the love of God.


- Divine Discourse,
February 13, 1997.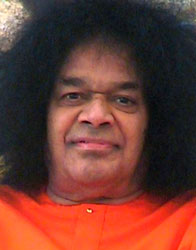 Why do we have troubles? And what should we do when we are confronted with problems?
The patient must himself drink the drug; there is no vicarious cure. The balm must be applied where the pain is. The cause of the illness and of the misery is in your mental vision, for, you see many, when there is only One. You say "My God," "Their God," "Your Baba," as if there are so many Gods existing to help you quarrel and fight among yourselves. Ask the Lord for the removal of your earthly troubles; there is no mistake in that. It is much better than asking other men, and losing self-respect and honour.

-
Divine Discourse, July 29, 1964


Is it wrong to have desires?
The body is just an instrument. We eat to sustain the body. We need food for the protection of the body and clothes for protection from cold and heat. The body is a source of all diseases arising out
of thrishna
(desire). Desire gives rise to
Raaga
and
Dhvesha
(attachment and hatred). There is nothing wrong in having desires for food, shelter and clothing. It is excessive desire that causes attachment and disappointment. Desire should be within limits. It should not become a hidden sickness. The desire to hoard is not there in birds and beasts...Man loses his human quality because of greed and selfishness.
-
Divine Discourse, May 20, 1993


Please click here Sathya Sai Baba ~ Answers to (Post a comment) ... Do not use link below!

_________________
My Eternal Love, Sarveswara
Love, Faith & Trust ... The Foundation of Everything.

---
Permissions in this forum:
You
cannot
reply to topics in this forum