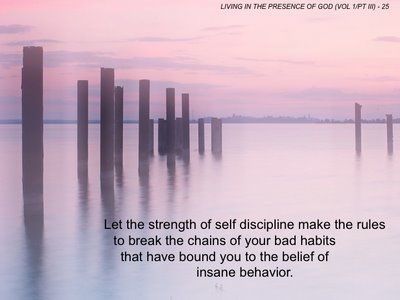 Mediations on Politics and War
On the folly of not following your own instincts

In most cases you've chosen to accept someone else's decision. Someone who came before you and, presumably, knows better … This is especially true on important matters. In fact, the more important the matter, and the more ready you seen to be to make someone else's ideas your own.


On tolerating war

Most people are satisfied with a world in which differences, not similarities, are honoured, and disagreements are settled by conflict and war.


On maintaining the status quo

Most people laugh when one suggests any kind of system other than the one currently in place, saying that behaviours such as competing and killing and the "victor taking the spoils" are what makes civilization great!


On changing by example

Consciousness is everything, and creates your experience. Group consciousness is powerful and produces outcomes of unspeakable beauty or ugliness. The choice is always yours. If you are not satisfied with the consciousness of your group, seek to change it. The best way to change the consciousness of others is by your example.


On the justification of foreign policy decisions

It is not wrong to base foreign policy decisions on vested interest considerations. What is wrong is to pretend that you're not doing so. This most countries do, of course. They take action – or fail to take action – for one set of reasons, then give as a rationale another set of reasons.


On the deception of governments

There are very few governments which do not deliberately mislead their people. Deception is part of government, for few people would chose to be governed the way they are governed – few would chose to be governed at all – unless government convinced them that its decision were for their own good.

~ Neale Donald Walsch
_________________
My Eternal Love, Sarveswara
Love, Faith & Trust ... The Foundation of Everything.

---
Permissions in this forum:
You
cannot
reply to topics in this forum