Sai Speaks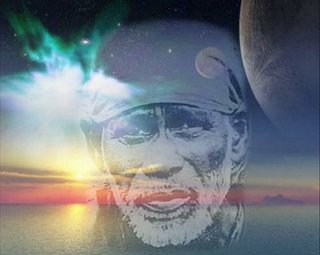 His Abode:



This is not a mosque. It is Dwaraka. Those who seek refuge here will never be harmed.

As soon as one climbs the steps of the mosque sufferings due to Karma are at an end and joy begins.

When any one enters this DwarakaMayi, his goal is achieved. Tarana (that is for saving people) and not marana (that is for killing them).

His Promises:



My eye is ever on those who love me.

Whatever you do, wherever you may be ever bear in your mind this that I am always aware of everything you do.

If one ever meditates on me, repeats my name, sings my deeds, and is thus transformed into me, one's Karma is destroyed. I stay by his side always.

You should have truth always with you. Then I shall be always with you, wherever you are and at all times.

If one perpetually thinks of me and makes me his sole refuge, I am his debtor and will give my head to save him.

I am the bond slave of my devotee. I love devotion. He who withdraws his heart from wife, child and parents, and loves me is my real lover and he merges in ME like a river in the sea.

My devotee feels ME in you, in him and in all creatures, and sees all as his GURU. He will become myself.

If you make ME the sole object of your thoughts and alms you will gain (Paramartha).

Look to me; and I will look to you.

Trust in the Guru fully. That is the only Sadhana. Guru is all the God.

Repeat my name. Seek refuge in me. But to know "Who I am" have Sravana and Manana. I am formless and everywhere.

If any one casts his burden on me and thinks of me I look after all his concerns.

Place complete faith in my words. Your object will be accomplished.

I shall be active and vigorous from the tomb also. Even after my Mahasamadhi, I shall be with you the moment you think of me at any place.

_________________
My Eternal Love, Sarveswara
Love, Faith & Trust ... The Foundation of Everything.

---
Permissions in this forum:
You
cannot
reply to topics in this forum