Love is the message for today.
Why do you think I give you messages, day after day, about love? It is because love is God and to bring God into your lives.
But few of you listen! You are so embedded in materialism that your minds fail to absorb or grasp the significance of what I am telling you. So I repeat My message, over and over again.
There is no other path to God except through love and service. Love comes first because it leads you on to service that is service that comes from the heart. This is the only service that is of any value. You serve because of the love that wells up in your heart. It is so strong, this flow of love, My love, that it impels you to share it with others and you can best do this through simple service to humanity, helping the sick, the poor and the suffering. All are My children and all are crying out for love.
Each one of you should be a channel for the pouring of My love all over the world.
My source of love is unlimited, it fills the whole universe and even then it overflows. How can you turn away and refuse the opportunity which I have given each one of you in this lifetime?
Turn to God, drink in the divine love that I offer you and experience the feeling of divine bliss which will come when you yourself are so full of love that it overflows and reaches all around you.
That is a state of divine bliss and leads to liberation and merging with God.
Love is the very basis of the universe. Without love there would be no universe. Love is everywhere. Even the plants experience and express love. Have you not witnessed this? Man is the highest form of nature upon the earth plane but, with most people, the love which they express in their lives is barely equal to the love expressed or shown by animals. Think of the love that dog can show towards its owner … love and devotion, too!
You cannot live without love, for life without love is empty and meaningless. But many choose to live that way and imagine they are getting pleasure from such a life. But this is not so. Such a life is completely shallow and selfish.
Love must be full of love. Love must manifest itself in everything you do in life, and that means throughout the day. When I say, "Start the day with love, spend the day with love, fill the day with day, end the day with love", I mean just that. You can repeat these words, but do you really put them into practise? So, My message for you today is just one word, "Love" with a capital L. Love each other. Express love whenever you speak, to anyone, whether close friend or otherwise. Love is infectious. As you express love, you are a channel for My love, that very seme love through which I created the universe in order to see My Love manifest itself in the world. It is my leela, or God's play. Lofe is just one constant flow of love.
How can you yourself experience My love? First, by linking up with Me at all moments of the day, But, equally important, by service to your fellow man. There are a thousand forms of service and a thousand ways in which you can be a channel to express My Love. It is through this service to your fellow man that you can feel the nourishing effects of My love and allow it to warm the innermost part of your body and soul.
This day I send my special love to each one of you. Treat it like a lighted candle, nourish it, protect it, and pass on the light and the warmth that goes with it to everyone you meet. Truly learn to love one another.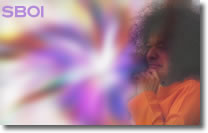 Please click here to (Post a comment)
Love is the message for today ~ Sai Baba
Do not use link below!
_________________
My Eternal Love, Sarveswara
Love, Faith & Trust ... The Foundation of Everything.


Similar topics
---
Permissions in this forum:
You
cannot
reply to topics in this forum