The grace of God cannot be won through the gymnastics of reason, the contortions of yoga, or the denials of asceticism. Love alone can win it – Love that requires no requital. - Baba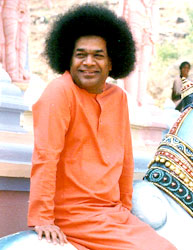 Man has in him all the Bliss, as well as all the equipment needed to unravel it; but, he is caught in dire ignorance of his own inner resources. He can have supreme peace but, he does not strive to earn it; his attempts are weakened by doubt and indecision, and so, they are doomed to failure. Of course, there is the flow of water underneath the ground. But, how can we benefit by it unless efforts are made to dig down into that source? A good deal of 'desire-for-sense-satisfaction' has to be removed before that inner spring of peace and joy can be tapped.

- Divine Discourse, February 21, 1974
He who is filled with desires is the poorest man in the world. - Baba


Devotion should be the unified expression of love for God, action in the service of God and total surrender to the will of God. These are intertwined like the braid of a woman's tresses. Bhakthi (devotion), Upaasana (worship) and Jnaana (awareness of the Self) together demonstrate the Oneness of the Divine. This truth is common to all religions.
- Divine Discourse, December 18, 1994.
The basic quality of devotion is the yearning for realising oneness with the Divine. – Baba
All beings are manifestations of the Cosmic Divine. The forms are different but the spirit that animates them all is One, like the current that illumines bulbs of different colours and wattage. Cultivate this feeling of oneness and do not be critical of any faith or religion. Dedicate your lives to the service of your fellow-beings. Thereby you will be redeeming your lives.

Divine Discourse, July 9, 1995
Make the mind, the voice and the actions agree in harmony. That is the right way of life. – Baba
]Three things are most essential today: Fear of sin, love of God and morality in society. - Baba
Please click here
The grace of God
to (Post a comment) ... Do not use link below!
_________________
My Eternal Love, Sarveswara
Love, Faith & Trust ... The Foundation of Everything.

---
Permissions in this forum:
You
cannot
reply to topics in this forum