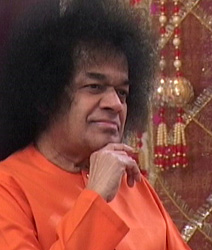 Cultivate the faith that everything happens by the Will of God... Always live in love. Make others happy by your love. Never harbour hatred or ill-will towards anybody...Your mind will remain steady once you believe that God is in you. In the beginning, your Sadhana (spiritual practice) may not give you immediate results. But if you continue contemplating on God within you, you are sure to achieve peace and bliss. God is not present in temples, mosques and churches. Body is the temple of God.


- Divine Discourse, May 26, 2002.
Please click here
How to progress on the spiritual path and always be steady.
to (Post a comment) ... Do not use link below!
_________________
My Eternal Love, Sarveswara
Love, Faith & Trust ... The Foundation of Everything.

---
Permissions in this forum:
You
cannot
reply to topics in this forum